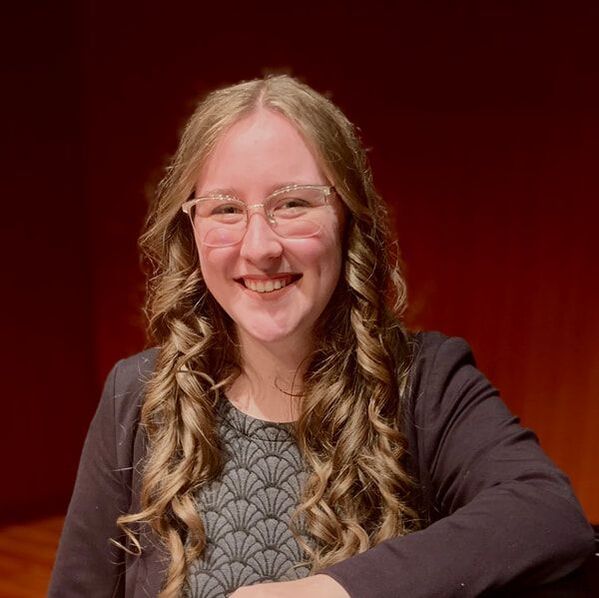 Kassidy Effinger
Kassidy Effinger is a pianist and cellist from Puyallup, Washington. She earned her Masters of Music in Piano Performance from Texas A&M - Commerce in May 2022. She graduated summa cum laude from Central Washington University with a Bachelors of Music in Keyboard Performance as well as minors in Mathematics and Philosophy in 2020. Her professional goals are to teach applied lessons at a post-secondary institution and to deliver exemplary performances of solo, chamber, and ensemble literature on the piano and cello. Her teachers include Dr. Luis Sanchez, Dr. John Pickett, and Dr. Merilyn S. Jacobson.
Kassidy's highest academic honors include being a Presidential Scholar, a title which is awarded to students with GPAs in the top 1% of their respective academic college, and the 2019 Presser Foundation Scholarship, which is given to only one student annually in the CWU Music Department and awarded based on faculty nomination.
Kassidy has a passion for teaching in several subject areas. She maintains a private studio with students of all ages and abilities. Kassidy has taught class piano and private lessons to undergraduates at Texas A&M University - Commerce as well as private lessons to K-12 students in the TAMU-C Piano Academy. She has taught music theory, aural skills, and class piano to undergraduate students as a CRLA certified tutor, and was a teacher in the 2019 Math Bridge Program, a course designed to increase students' scores on the ALEKS placement exam.
As a soloist, Kassidy has tackled some of the piano's most difficult repertoire such as Rachmaninoff's Rhapsody on a Theme of Paganini and Beethoven's "Waldstein" Sonata, Op. 53. She has been selected to participate in masterclasses given by pianists from around the world including Olga Kern, Dr. Stephen Beus, Dr. George Lopez, Dr. Mark Polishook, Dr. Alessandra Feris, Ignacio Prego, and John Kimura Parker. Kassidy has a particular interest in music of the 20th and 21st centuries. She enjoys the music of Debussy, Ives, Ravel, Prokofiev, Adams, and Reich, among others. Kassidy has also brought young composers' works to life by performing them pro bono for composition studio recitals, conferences, and recording projects.
Kassidy has a great deal of experience with chamber and ensemble music. She was the pianist in Trio Giada, a piano trio that has toured to Wenatchee Valley Community College as well as won the 2018 Washington State MTNA Chamber Strings Competition. She has performed on juries, recitals, competitions, and convocations as a collaborative pianist. Additionally, served as the accompanist for the Ellensburg Women's Chorus and the Kittitas Valley Children's Choir from 2017 to 2020 and performed over 100 works with these groups.
As a cellist, Kassidy has played in the CWU Symphony Orchestra and the Wenatchee Valley Symphony Orchestra. During her time with the former group, they performed at such prestigious locations as Benaroya Hall as well as the John F. Kennedy Center for the Performing Arts. She also enjoys playing piano trios, string quartets, and performing with the Central Washington University Cello Choir.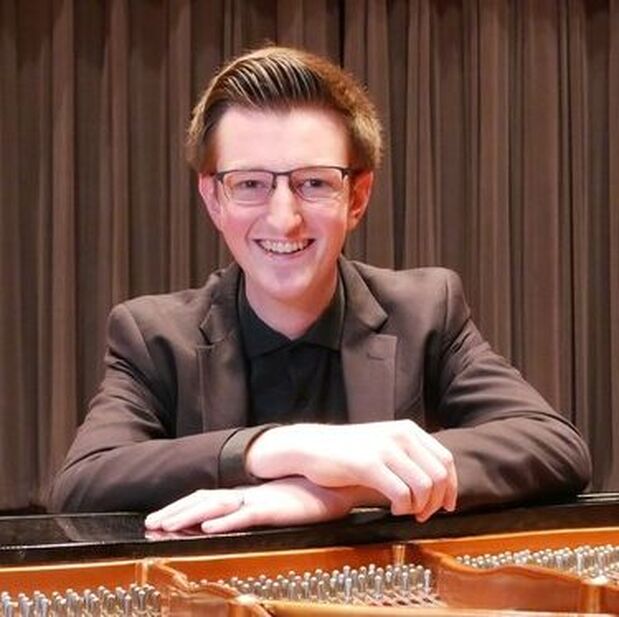 Thomas Effinger
Thomas Effinger is a pianist, cellist, composer, and teacher. Beginning his music studies at the piano with an interest composition, Thomas studied piano, cello, and composition at Central Washington University where he completed a Bachelor's of Music in Piano Performance summa cum laude (4.0 GPA) with a minor in mathematics. He is a Washington State Opportunity Scholar, and received the support of eighteen other merit based scholarships during his attendance at CWU. He was selected for the Silver Cortege as a Sophomore to facilitate the 2017 Commencement Ceremonies, and is the 2020 College of Arts and Humanities Medallion Scholar. Thomas completed a Master's of Music in Piano Performance (4.0 GPA) from Texas A&M - Commerce in 2022. Thomas also holds an Associate's of Arts in Mathematics Education with highest honors (completed 2018) from Clark College.
As a pianist, Thomas performs regularly, giving recitals which include solo repertoire and chamber music. A performance of Liszt's Dante Sonata on an honors convocation at CWU received a standing ovation from students and faculty. He has played in masterclasses for George Lopez, John Kimura Parker, Kariné Poghosyan, and Nancy Weems, and has performed as a guest artist for the NFMC Piano Festival in Portland, Oregon. He has also performed as a collaborative pianist at the Icicle Creek Center for the Performing Arts in Leavenworth, Washington, and for countless students in voice and string studios in lessons, juries, and on studio recitals. Thomas studied piano at CWU with Barbara Pickett and John Pickett, and at Texas A&M - Commerce with Luis Sanchez.
As a cellist, Thomas performed as a member of the CWU Symphony Orchestra, including concerts at Benaroya Hall in Seattle Washington, and in the Kennedy Center for the Performing Arts in Washington D.C. While at CWU, he served as a representative on the Orchestra Council. Thomas studied cello with John Michel.
Thomas is an award-winning composer. He was the Washington State and Northwest Regional Winner of the National Federation of Music Clubs' 2014 and 2015 Junior Composer's Contest, and received an honorable mention at the National competition in 2015. His original compositions have been featured on recitals, and feature instrumentations for solo Piano, Cello and Piano, Cello Choir, String Orchestra, and Symphony Orchestra . Thomas studied composition at CWU with Martin Kennedy.
Thomas has broad and extensive experience teaching music. At Texas A&M Commerce, Thomas taught class piano and private lessons for university students including music majors, and lessons for beginning piano students in the Piano Academy. While in Texas, Thomas also taught beginning piano at the Rockwall School of Music, and maintained a private studio in Commerce TX outside the university which included music majors, university students from other departments, and adult students. He has performed and given masterclasses for former teacher's studios and in public schools as a pianist and cellist, and served as a music theory tutor for the CWU Department of Music from 2018 through 2020. He maintains an active membership in the Music Teacher's National Association, and is currently completing the MTNA certification. Thomas also has extensive experience teaching academic subjects including mathematics and physics. He is a Certified Tutor through the College Reading and Learning Association, and has used this certification to serve as an instructor for CWU's Online Math Bridge Tutoring program and to teach math and physics in the CWU Academic Success Center.
Thomas served as the CWU Department of Music's Senator in the Student Academic Senate from January of 2018 to June of 2020. From his advocacy and the support of student senators from other academic departments, more than $20,000 was granted to student groups in the CWU Music Department during his tenure. For his outstanding performance as a music student and service to the department, Thomas was selected by the faculty as the CWU Music Department's 2018 Presser Scholar.
In the future, Thomas plans to complete a DMA in Piano Performance, and hopes to earn a professorship teaching music at the university level, to concertize frequently as a solo pianist, and inspire a love for learning in a new generation of young artists.